Professional editing of your documents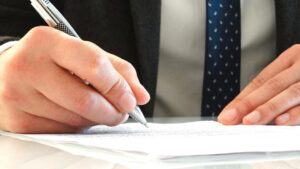 Whether your document started out in English or has been translated from another language, getting it edited is an important step to take before sharing it with a wider audience, so you can be sure it will make the right impact.
In this blog, we answer some of the questions that you might have when deciding whether to get your text edited by a professional.
What type of documents should I get professionally edited?
If the content will be representing your business – for example if it's going to be published or put on your website – getting it edited by a native professional linguist will ensure the final product is as polished as it can be.
We recommend editing when the style, flow and impact of a text are crucial, such as for web and app content, marketing materials, sales presentations and creative texts.
What happens during the editing process?
A professional editor will proofread your text before finetuning the style, register and terminology, ensuring it is coherent and flows well. An editor will carefully consider your target audience when making any changes, and they will make sure the tone of the document matches up with what you are trying to achieve.
How is editing different from proofreading?
The aim of proofreading is to remove errors, while editing focuses on making the final document shine. A proofreader will check the document for grammar, syntax, punctuation and spelling errors. An editor will do this too, but as they'll be keeping the target audience in mind they'll also make stylistic improvements wherever needed.
What about editing translated documents?
If you opt for translation + editing, your text will be passed to a second professional linguist after the translation step is complete, who will then work their magic to ensure the text flows naturally. An edited translation will read like it was written in that language to start with.
By only reading the translation and not comparing it to the text it was translated from, the editor can make changes that ensure your document doesn't sound like a translation at all.
What are the benefits of professional editing services?
• Since editing includes proofreading, it will eliminate spelling, punctuation and grammar errors.
• A professional editor will ensure the text communicates your message clearly.
• Having a native professional edit your documents will ensure the tone used is consistent and appropriate for your target audience, especially if the text has been translated from a different language or contains specific cultural references.
Why should I choose Surrey Translation Bureau to edit my document?
At Surrey Translation Bureau (STB), we offer translation + editing, in addition to standalone English editing services, to improve the readability and impact of your documents. Many of our clients opt for this service for their web content and other documents they plan to share externally.
As evidenced from the feedback we have received, our clients really appreciate our editing service and the way it helps them to achieve their business objectives:
"I have been very impressed with the first-class service that you and your team have provided. I shall not hesitate to use your company again" Sum Fun Games Ltd
"We started our company in early 2020 and knew right away that finding a translation company would be key to helping us achieve our goals. It took some research to find STB and we are glad we found them. Their work has been all-encompassing, from helping with the editing, through to translation, and also marketing. It has been a pleasure working with their linguist teams and project managers." SDK Publishing
Get in touch with our award-winning team today to find out more about our professional editing service.