STB Project Manager wins big at the Plunet Summit 2022
Here at Surrey Translation Bureau, we've been using the translation management system Plunet since 2019. The software helps to monitor and track our translation projects from start to finish, from an initial quote request through to post-delivery account management. In just over three years, Project Manager Jasmine Stolk managed to learn nearly all there is to know about the system as a Plunet Administrator and has become the go-to "Plunet Guru".
Jasmine was invited to present at the latest Plunet Summit in Berlin, their first event to take place since 2018 due to the global pandemic. She was also asked to take part in a game show "Who is the real Plunet guru?" held in the style of the popular show "Who wants to be a millionaire?" to test her knowledge against other self-proclaimed Plunet Gurus. How did she fair? She'll tell you below.
The Plunet Summit 2022 was held on 18th and 19th May in a beautiful building overlooking the river Spree in Berlin with a picturesque view of the Oberbaum bridge, one of the city's most famous landmarks. The unseasonably warm and sunny weather was just the icing on the cake for the successful Summit.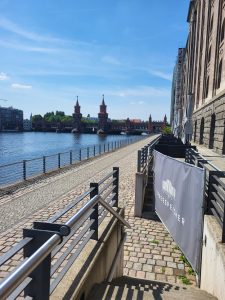 As a first-time Plunet Summit attendee, the 'official unofficial' warm-up event on Tuesday evening was a fantastic opportunity to get to know the other attendees before the main event, as well as a chance to finally meet the Plunet team in person after three years of video calls and emails.
Held across two different rooms, 'Paul' and 'Leiter' (if you know, you know), the Summit consisted of a mixture of presentations held by the Plunet team, best practise talks from guest speakers (including myself), workshops, panel discussions, networking opportunities and the game show at the end of the first day!
The main takeaway from the event for me was that automation is key – specifically for those small, boring, repetitive tasks that eat up your time. Automating these sort of tasks frees you up to make better use of your time, and, luckily, Plunet has plenty of features and additional modules available to help you do just this.
This was something that I discussed during my own talk, "How to become a Plunet Guru", in which I focused on the key skills needed as a Plunet administrator and how I use Plunet's features to bridge the gap between the software and my colleagues' needs. My 'Proudest Plunet Moment' was in fact the automation of a laborious process, which was streamlined down to just 20 clicks through use of templates and other automation features.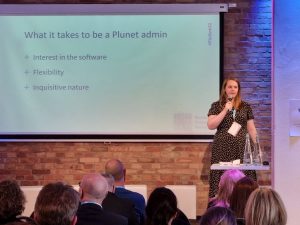 Who wants to be a Plunet Guru? Well it turns out I do – and I am! After answering five particularly challenging questions about all things Plunet by the fabulous game show host, Sophie Halbeisen, Director of Business Development at Plunet, and with the help of my lifelines, 'Ask a Plunet Expert' and 'Ask the audience', I managed to reach the million-dollar prize: a free ticket to next year's event!
So, I guess I'll get to learn even more and flex my guru skills again next year! See you then Plunet 😊