STB is inspiring and supporting students of all ages in the local area
Surrey Translation Bureau (STB) prides itself on playing an active role in the translation industry and helping to shape its future. We therefore believe it is extremely important to inspire and support the next generation of linguists. In recent months, STB's outreach activities have seen employees speaking to school pupils, university students and new graduates in the local area.
STB has recently forged a new link with Farnham Heath End School (FHES) through the 'Inspiring the Future' scheme, which enables schools to connect with inspirational volunteers from the world of work. Translation Team Leader Chloe Jones visited the school to deliver talks to Year 9 students as part of their Careers Week and to Year 10 GCSE students studying French and German, helping to open their eyes to different career options and careers with languages. Chloe gave an insight into working with languages, as well as pathways into this field of work, at both pre- and post-degree level.
"It was fascinating for students to learn about the differences between interpreting and translation, and the wide range of opportunities that are available to linguists in these areas of work." (Mrs J Sarrazin, Head of Modern Foreign Languages, FHES).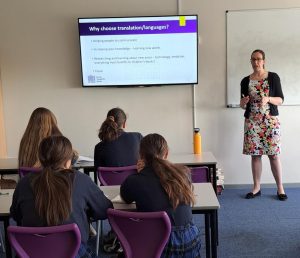 STB also wants to support university translation students who are hoping to break into the industry. In May 2022, our Resource Management team attended the annual University of Surrey careers fair, organised by the Translation Faculty. Resource Manager Indi Kaur and the then Resource Coordinator Leila Vaníčková gave a presentation on STB's history, the services offered, the qualities we look for when recruiting new linguists and how freelance translators can apply to work with us. After this, students had the opportunity to visit the companies in attendance at their stands and ask questions. STB received excellent feedback on our involvement in this event as well as several applications from students interested in working with us on a freelance basis:
"It was really interesting to hear all about Surrey Translation Bureau and gain some insight into your company and the industry as a whole." (Maria Dunkley, German to English MA graduate).
STB is proud of these partnerships it has established and looks forward to many more opportunities to support and inspire students and schools in its local community, and potentially work with some of them in the future!
We are also keen on building relationships with other local businesses, so please get in touch with us if you need translation services.
Surrey Translation Bureau
We are an award-winning ISO-certified translation agency in Farnham. STB offers language services to corporates, professional organisations, public bodies, individuals and other translation agencies in the local area. We have experience translating across almost all world languages. We work with specialists in a wide range of fields including medical, legal, technical, marketing, financial, science, the EU and environment.
STB's mission today is to provide high-quality and customised language solutions for any client – whatever their size – who wants to thrive in the dynamic global market or who simply wants to communicate more effectively with their customers and suppliers overseas.
Written by Chloe Jones