FAQs relating to ordering from a translation agency
If you have international customers, distributors, suppliers or staff, you may want to have your documents available to them in the language(s) they understand. Translation can help you to meet legal requirements, boost productivity, prevent miscommunication, and grow your brand internationally.
But what do you need to consider before approaching a translation agency and what questions do you need to ask them? Here is a handy little guide to help you with ordering translation for the first (or 100th!) time:
What do I need ­– translation or interpreting?
Put simply, translation is the process of converting written text from one language to another, and interpreting is converting spoken words from one language to another, often on the spot. Make sure you know which service you need before you approach a language agency. Some agencies also offer additional linguistic services, so be sure to find out about those as well.
Surrey Translation Bureau (STB) specialises in translating written text into and out of most world languages. We also offer other language services such as subtitling, DTP, editing and more to cater to all your linguistic needs.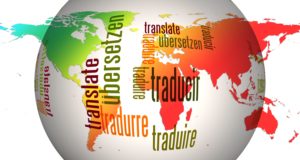 What should I consider when hiring a translation partner?
– Are they professional?
– Are they affordable? Even though it's not always best to go for the cheapest quote available, make sure the quote you get from a translation agency fits with your budget.
– Are they communicative? Ensure that you opt for a language partner that responds to your emails and is happy to talk to you over the phone. If they aren't receptive during the initial stages you are more likely to encounter communication problems if you have any issues once you have made a decision.
– If you have a clear time frame in mind, it is important to communicate that and confirm that the translation agency you choose can deliver in time.
How do I know if a translation agency is professional?
– They are accredited to business standards that demonstrate their professionalism and commitment to clients.
– They are part of a professional association.
– They have awards, positive reviews, and other recognition.
– They have standard recruitment processes to ensure qualified native translators will work on your translation.
– They have dedicated and qualified project managers.
– They have strict data protection procedures in place.
STB is independently certified to the general business quality standard BS EN ISO 9001:2015, and to the translation industry standard BS EN ISO 17100:2015. We are also certified to post-editing machine translation standard 18587:2017.
We are a corporate member of the ITI (Institute of Translation and Interpreting) and are also members of the Surrey, Thames Valley and Hampshire Chambers of Commerce. We regularly give presentations and training, and have received and even judged awards as part of our memberships!
As you would expect, we comply with strict confidentiality procedures in line with our ISO 17100:2015 certification, GDPR best practices, and client-specific requirements.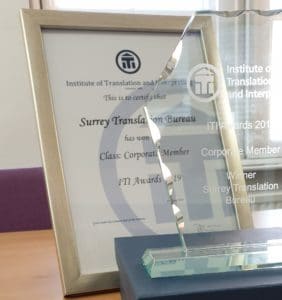 What information should I provide to the translation agency?
– First and foremost: the language combination, i.e. the language(s) that your text is in (source) and the language(s) into which you would like it translated (target), including any regional variants or specific target markets
– The document you want translated (or the estimated word count if the document isn't ready yet)
– The end purpose of the translation – knowing how the translation will be used will help the translation company identify the right service for you and will enable the linguists to maintain the desired tone and style
– Clear information about the deadline
– The document format (editable/non editable) – text in file formats such as Word, Excel, InDesign etc. is easier to extract and more compatible with translation software. Non-editable formats such as PDF, JPG etc. are more difficult to work with and might require extra time, effort and money to translate
– Your preferred format for the translated text – sometimes you might want the translation to be delivered in a format different to the source
– Any style guide or framework that needs to be adhered to – for some sectors, such as medical, there are standard frameworks that the linguists need to follow to ensure the translations are fit for purpose
– Any other information pertinent to the translation process
What service(s) do I need?
Depending on the nature of the document and how it will ultimately be used, you might require more than just a translation. A professional translation agency will suggest which services you may need to make your content suitable for the intended end purpose.
If your text is technical in nature, the language agency might suggest revision along with translation, or editing for more creative text. If you have brochures or other marketing documents with design elements, the agency might recommend their DTP services. For languages with non-Latin scripts in particular, a DTP service helps to ensure that your text is properly typeset in the design template after translation.
At STB, we recommend the right service to ensure that your text is suitable for its end purpose, whether that is translation and revision for your legal document, or transcreation (creative translation) for your marketing content.
How much does it cost?
The final cost of the translation depends on several factors, including, but not limited to, language combination, word count, delivery time frame, complexity of the text, and the pricing policy of the agency. You might be charged per word, page or hour, have a minimum or flat fee, or be quoted a price specific to your project. A professional translation company will try to provide you with an accurate quote at the start of the project to help give you a clear idea of the costs.
Many companies go for the bottom line first, i.e. the cheapest quote wins. This approach will ensure a cheap translation, but the quality may vary depending on which translation agency you choose.
However, it may be worth considering an alternative. Think about how long it took you to prepare your product for your 'home' market. If you spent hundreds of pounds, and months preparing the source copy, and a few weeks adjusting the design and layout, why would you expect your translation to be delivered for the lowest possible cost?

How long will it take?
Some of the factors that impact the delivery time frame for a translation project include:
– The length of the document
– Language combination: Agencies will have a wider range of translators in some languages than others. For rarer languages new translators may need to be onboarded
– Method of translation used: The most popular, time- and cost-efficient method is Computer Assisted Translation (CAT). These translations are done by human linguists but using digital tools that can store previous translations, and avoid working on repeated text again. Some agencies offer machine translation, which gives fast results but doesn't necessarily guarantee accuracy and quality. It is, however, useful when you need a quick turnaround and quality is not a priority. Machine translated text is primarily for information purposes only – not only is it error prone but there are also data protection implications to consider. Another option is to use human translators only to complete the process from start to finish. This is more time consuming, but is better suited for text where creative thinking is of prime importance.
– The complexity of the text: If the content is very niche, the linguists might do some in-depth research to ensure the terminology is accurately translated
– File preparation: Sometimes the text can be in a format that can't be easily translated and needs to be prepared for translation software. For instance, text in a PDF document or a scanned image file will have to be converted into an editable format (such as Word etc.) for linguists to start working on them. This would mean additional time to deliver the translated documents.
– Level of service chosen: More often than not, a good translation company will advise clients to have their translation revised or edited. Additional services, such as DTP, might also be required, which would also increase the time for delivery.
At STB, our qualified linguists are able to translate around 1500–2000 words a day. This time frame can change depending on the factors mentioned above. If you need the translation done more urgently, please speak to our team as we might be able arrange a rush translation or split it between multiple translators (although this is not usually recommended for consistency reasons).
What happens when I hand over a document for translation?
When you hand over your document for translation, a project manager will take charge of it. Their job involves resource selection, file preparation, sending the file to the linguists, sourcing answers for clients and translators, performing quality checks on the translations, and converting them into a deliverable format, and finally, delivering the translated document to the client within the agreed time frame.
At STB, every client is assigned an experienced project manager as their dedicated point of contact. They are responsible for all aspects of the current project and all future work, assisted by other in-house team members.
Whom do I contact if I have a question about my project?
It is essential that your chosen translation agency is open to questions and conversations at all stages of the projects. They should discuss your requirements before committing to translating the documents, give you details of the delivery time frame etc. during the project, and listen to any feedback you have once the translation is delivered.
You can have multiple points of contact within a company or a single project manager to come to with any questions, concerns or future projects.
At STB, our sales team will make sure we understand your requirements and give you a tailored quote. Once the project gets the go-ahead from you, your dedicated project manager will be on hand to answer any questions you have. You will also get support from an account manager who will ensure that the workflow we have with you is always efficient.
How do I ensure the workflow stays efficient?
The longer you work with a translation agency, the more effective they will be. With long term relationships, your translation partners will build a better understanding of your requirements, style and terminology, have more historical references/glossaries to improve quality and reduce costs, put together a set team of linguists for efficiency and consistency, and maintain consistent communication with you.
At STB, we are proud of the trust our clients put in us, and some of our earliest clients still work with us today.