Exporting to Switzerland
Thinking about exporting to Switzerland? The country holds great potential with a stable and trustworthy business, legal and regulatory framework. It also has excellent trading relationship with the UK. In 2017 around 15,200 VAT-registered UK businesses exported goods to Switzerland (ONS, 2017).
Here are some facts about Switzerland that will guide you through the export process: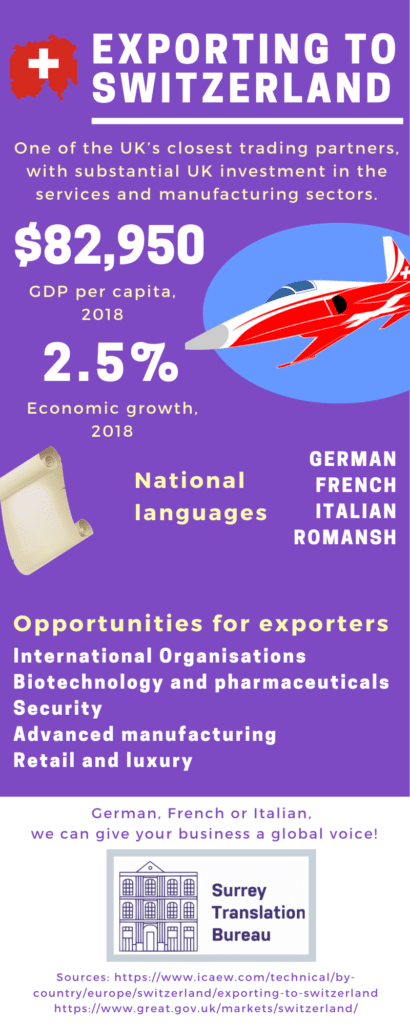 Support from a professional translation agency
If you want to expand your business in Switzerland, make sure cultural and language barriers don't limit your reach. Having a trusted translation partner such as Surrey Translation Bureau will ensure your message is in the right language and tone to make a positive impact on your target market.
With the rapid spread of coronavirus (COVID-19) globally and most countries, including Switzerland, experiencing a sharp fall in business activities, it might be worthwhile to work on an export plan based on economic forecasts, rather than past trends. Also, seek support and advice from reliable bodies such as the Department of International Trade (DIT) to minimise the detrimental impact of the pandemi.
Get in touch with our award winning team on +44 (0) 1252 730014 or email hello@surreytranslation.co.uk to talk about translating your documents from English to German, French and/or Italian and vice versa.