Exporting to Italy: Importance of Italian translation services
Thinking about exporting to Italy? Our Italian translation services can help. 
For your export journey to be successful, 'speaking' the language of your customer can be essential. Translation and localisation both have an important role to play in helping your business grow internationally. When introducing products to a foreign market, or communicating with international stakeholders, we need to be aware of the linguistic challenges inherent to this process. 
Here are some facts about Italy that will help you with your export plans: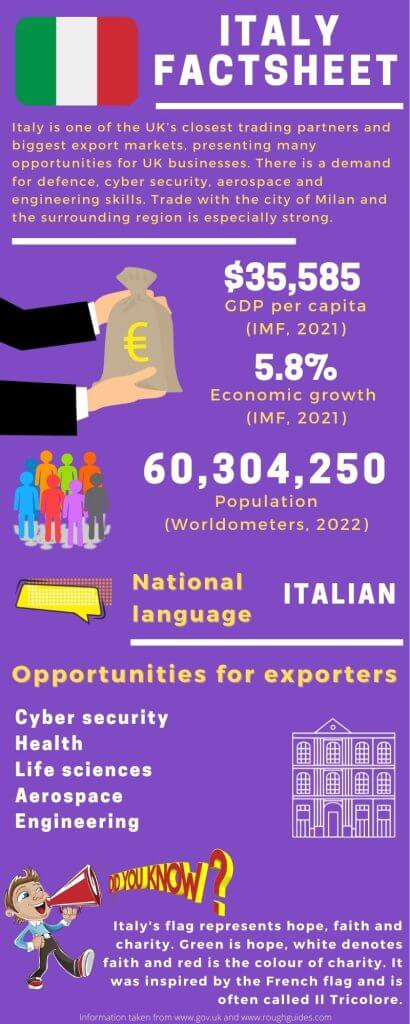 Italian translation support from a professional translation agency
If you want to expand your business in Italy, make sure cultural and language barriers don't limit your reach. Having a trusted translation partner such as Surrey Translation Bureau will ensure your message is in the right language and tone to make a positive impact on your target market.
With the recent pandemic and most countries, including Italy, experiencing an impact on business activities, it might be worthwhile to work on an export plan based on economic forecasts, rather than past trends. Also, seek support and advice from reliable bodies such as the Department of International Trade (DIT) and your local chambers of commerce.
Get in touch with the STB team to see how their Italian to English or English to Italian translation service can help you expand your business in Italy.
---
Surrey Translation Bureau
As an award-winning ISO certified translation agency, we offer language services to corporates, professional organisations, public bodies, individuals and other translation agencies. We have experience translating across almost all world languages and work with specialists in a wide range of fields including medical, legal, technical, marketing, financial, science, the EU and environment.
STB's mission today is to provide high-quality and customised language solutions for any client – whatever their size – who wants to thrive in the dynamic global market or who simply wants to communicate more effectively with their customers and suppliers overseas.