Exporting to Japan
With a GDP of $5.18 trillion, Japan ranks as the third largest global economy, attracting imports from various countries around the world. In the year commencing March 2019, the UK's exports to Japan were worth £14.6 billion. More and more UK brands are investing in the Japanese market, with some big names such as Ted Baker, Lush and Burberry already making a mark in the country.
Things to remember
Japan has remained unique in maintaining its age-old traditions and values in regard to corporate operations, whilst advancing at a rapid pace in terms of technology and infrastructure. For any foreign company to enter the Japanese market, it is imperative to understand this delicate balance between retaining a top spot in the global economy and holding on to traditional approaches to how business relationships are made.
So, if you are interested in doing business with Japan, here is quick snippet of what to look out for: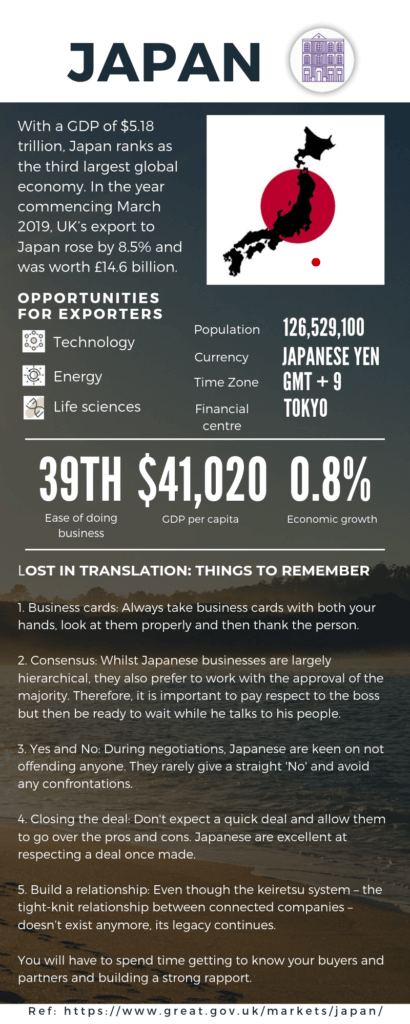 Need for a professional translation agency
If you want to expand your business in Japan, make sure cultural and language barriers don't limit your reach. Having a trusted translation partner such as Surrey Translation Bureau will ensure your message is in the right language and tone to make a positive impact on your target market.
With the rapid spread of coronavirus (COVID-19) globally and most countries, including Japan, experiencing a sharp fall in business activities, it might be worthwhile to work on an export plan based on economic forecasts, rather than past trends. Also, seek support and advice from reliable bodies such as the Department of International Trade (DIT) to minimise the detrimental impact of the virus.
Get in touch with our award winning team on 01252 730014 or email hello@surreytranslation.co.uk to talk about translating your documents from English to Japanese and vice versa.