STB's Head of Translation Operations, Hannah Stacey, and Project Manager, Greg Hyne, attended SDL's Trados Autumn Roadshow at the Cumberland Hotel in London at the start of this month, where they were invited to think creatively about the challenges facing the global translation industry and their own translation processes. The event offered a great opportunity to meet expert members of the SDL team and speak with fellow translation professionals. The event also featured an afternoon of product training.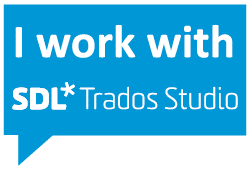 The SDL team used Common Sense Advisory's Localization Maturity Model (LMM) as a reference point to explain how technology can be used to meet the challenges facing the global translation industry. Over the course of the morning sessions, the speakers presented ideas to make us think about our own operations and how new technology could be implemented at STB in the future.
The morning also featured an interactive session where we were partnered up with other delegates and were tasked with putting our creative skills to the test to think about both our own personal and professional development and the professional development of fellow attendees.
After coffee and a networking lunch to get to know the other language service providers and independent language professionals in attendance, we sat down for an afternoon of product training. The SDL team walked us through the new features in their new release, SDL Trados Studio 2019. Updates to the software's project management features were of most interest to us here at STB, but the SDL experts also talked us through updates to their GroupShare platform and the offerings made available from SDL's 'Language Cloud'.
All-in-all the STB team walked away with a wealth of new information and industry insights and we are excited to roll-out some efficient features to help us continue offering our clients excellent translation services.
Did you know? Our in-house project management and linguistic teams are all certified users of SDL Trados Studio! We pride ourselves on staying up to date with industry-specific technology, which we use to provide our clients with first-rate client care and a high-quality product. Want to know more about our workflow? Get in touch at hello@surreytranslation.co.uk.