Surrey Translation Bureau wishes ITI a happy 30th!
On 11 June the Institute of Translation and Interpreting (ITI) hosted a lunch event at the Anthologist in London to celebrate its 30th anniversary. Over 150 members from the language services community attended the event. Everyone celebrated the ITI for reaching this major cornerstone in its long and successful journey. It was a very enjoyable afternoon with lots of delicious food and a mouth-watering cake. They even had a quiz!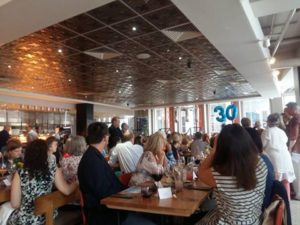 Our Head of Translations Hannah Stacey took part in the celebrations and enjoyed the good company of some like-minded people talking about our shared interests, workload worries and translation bugbears.
While many joined in with the sweet sound of the 'Singing translators', some were involved in more serious discussions about the evolving translation technologies. The atmosphere was certainly buzzing! The ITI provided a really enjoyable platform for translation professionals to come together and talk about things that matter.
The Institute of Translation & Interpreting was founded in 1986 as the only independent professional association of practising translators and interpreters in the United Kingdom. It has now grown to include over 3,000 members specialising in more than 100 languages and dialects from across the globe. No matter your industry, if you need information about translation services in the UK, ITI will have it.
With its aim of promoting the highest standards in the profession, ITI has been the common ground for language service providers to promote the importance of translation in today's world of growing global communications.
Surrey Translation Bureau became a corporate member of the ITI on 29th October 2013. Since then, the association has proved extremely beneficial to our company and our translators. It has strengthened our clients' trust in us.
Our professional accreditation from the renowned ITI assures potential clients of the quality of our services. The entry requirements to become a member are quite challenging.  What's more, all ITI corporate members are required to adhere to its Code of Professional Conduct. This way the Institute maintains the highest professional standards.
One big benefit of corporate membership for our company is the ITI's invaluable linguist directory. It details all qualified and tested members, and is accessible to anyone searching for a translator on the ITI's website.
ITI also opens doors to opportunities for professional development and keeping pace with technology in the translation agency, through conferences and training events.
Early last year, our in-house team went to one such conference held in Newcastle-upon-Tyne. In the words of our Resource Manager, Allison Spangler, it was the "Prom of the translation industry!" The conference was thoroughly enjoyable with a wide range of presentations, training, wellness activities and networking opportunities.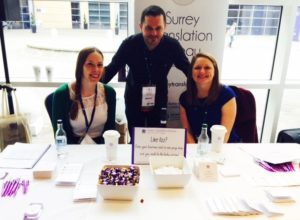 From Allison's point of view, events like these are a great place for language service providers like us to meet qualified and experienced freelance translators and add them to our team. It is also an excellent platform for translators to discuss industry standards and network with other linguists.
We hope that there are many more anniversaries and other celebrations for the ITI to come. Here at STB, we have already started planning for next year's ITI conference in Cardiff. We can't wait!
If you would like to know more about our association with ITI, why not email us today at hello@surreytranslation.co.uk or give us a call on +44 (0) 1252 733 999. We look forward to hearing from you!