Sales and marketing at STB – there's more to the industry than translation and project management
Finding a job in the translation industry is hard with no experience. After finishing my masters' degree in Spanish and French, I was feeling a little lost, so when I found out that I would be given the chance to intern at Surrey Translation Bureau I was over the moon! As my languages are not currently 'in demand', translation was not the main focus of my internship, although I did spend some time with the Resource Manager and the PM team. Instead, my internship focused on sales and marketing and I learned a wide range of transferable skills during my six weeks there, ranging from telephone communication skills through to software training, that I'm sure will help me in all walks of life.
There are two sides to sales at STB: winning new business and looking after existing clients. I spent two full weeks and the Thursday of all other weeks with sales staff Craig and Elmira learning how sales and marketing was vital to the business. From day one, I was given responsibilities such as speaking to clients on the phone and devising a World Cup campaign, which was set to run during the last four weeks of my internship. Both tasks were challenging and required me to venture out of my comfort zone in completely different ways. The former proved a challenge as, when I arrived at STB, I lacked confidence speaking on the phone. The latter required me to learn as much as I possibly could about football and how businesses use it to their advantage, before then planning a social media campaign around it – all in the two weeks before the World Cup started!
With help and guidance from Craig and Jenny (social media), we devised the '#WinstonsWinners' campaign. Winston, a Great Dane, is one of three lovely dogs that regularly visit the office, and he was more than happy to help predict the result of some of the matches. Winston's predictions were accompanied with facts relating to the World Cup, and it was great to see some of the positive reactions on the social media sites. This light-hearted campaign was designed to help get the name of STB out there using relevant trends online, but my real challenge involved talking on the phone. At first, I struggled to speak on the phone to strangers, something that I knew I had to change as telephone interviews are becoming increasingly popular. The support that Craig gave during my training was really helpful, and I soon became more relaxed and found it much easier to sell over the phone – this also prepared me for tackling face-to-face sales during my last week of interning.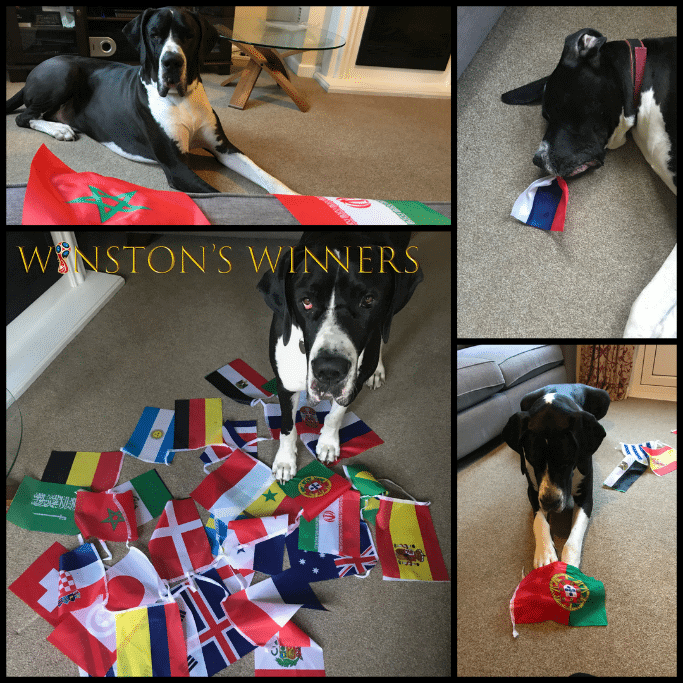 One of the highlights of my internship was going to the 'Allergy and Free From Show' in London with the sales team. STB have recently taken on more work and translators that specialise in this area, so this was an opportunity to go and spread the word to new potential clients. Before the event, I was tasked with researching all the different exhibitors, and was given the responsibility of deciding which companies had the most potential for pitching to. At the event, I put my face-to-face sales skills into practice, and then the following week drafted a follow-up email to the contacts that we had made. Seeing the full cycle of how to effectively make sales first-hand was an unexpected bonus, and once again opened my eyes to other possible roles within the translation industry.
Surrey Translation Bureau places great emphasis on staff development, whether that be to mould you into a top-quality translator, or to give you experience working in a variety of different roles within translation. During my time, I was exposed to so many types of jobs, from sales and marketing to resource management and translation, from finance to project management, and the structure of the internship gave me a great overview of how the business works. As well as experience, STB also give you a leg up so that you can aim for the career that you want. If you do want to go into project management or translation, they train you to use CAT tools such as SDL Trados Studio and give you the chance to take exams. Alternatively, if, like me, you are wanting to pursue a career that uses languages but is not necessarily in translation, they help build your confidence for interviews both on the telephone and then with a mock interview at the end of your placement.
I have had an incredible time with STB, and have developed so many useful and transferable skills that I can use to my advantage in whichever field I choose to work in. I even learned the offside rule! Thank you to all the staff, you have made this experience both educational and fun, and I will miss everyone (both human and dog) very much!