Literary translation: giving your books a global voice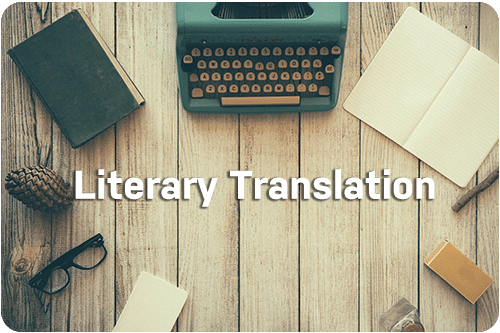 Literary translation is very different from all other forms of translation: whether the subject matter is ancient literature, modern novels or even non-fiction reference books on science, philosophy, politics and religion, literary translation reflects the intentions of the author and shapes how a reader perceives the book when read in a different language.
The importance of literary translation
A report put together by English PEN and Free Word, titled Taking Flight: New Thinking On World Writing, highlights ten values that literary translation brings. Literary translation:
– helps us understand the changing world and promote shared values: by forming a bridge between different countries, cultures and trends, literary translation helps us identify shared human emotions, values and experiences.
– revitalises literature: with language barriers removed, literature can travel across cultures and generations. This can help writers gain inspiration from literary techniques, language and concepts beyond their own countries, times and cultures.
– allows readers access to the best of best: from the Tale of Genji (Japanese), Andersen's Fairy Tales (Danish) to Odyssey(Greek), literary translation has enabled us to read the best that literature has to offer from around the world. It is also the best tool to identify hidden literary gems from different regions and give them due recognition
– develops new markets: one of STB's clients, SDK Publishing, wanted to make sure their books gain international exposure and readership with distribution across multiple channels and languages. This is where our literary translation services have played a key role. From a commercial perspective, translation expands the market for books by making them accessible to a much wider audience.
Challenges when it comes to literary translation
"To present a work as aptly as possible, to recreate it in all its beauty and ugliness, grandeur and pettiness, takes sensitivity, empathy, flexibility, knowledge, attention, caring and tact." – Mark Polizzotti, English translator of works by Gustave Flaubert, Marguerite Duras and André Breton
– Literary translation can often involve large volumes of text, which increases the time scale of the project and makes processes more complex. The translation agency or translator working on literary translations should, therefore, have set workflows in place to efficiently manage such projects. Here at Surrey Translation Bureau, we have a specific framework for literary translation projects, that covers the process from when we are approached about a project, to after the translation is successfully delivered, and beyond. This helps reduce any ambiguities for the client, our sales team, project managers and linguists, ensuring a smooth process from start to finish.
– When it comes to translating fiction, it's also safe to say that a simple word to word translation won't suffice: the emotions that an author evokes in the original language need to be preserved in the translations too. It is quite a challenging task to remain honest to the original piece of work and at the same time, create something unique without losing the message, tone and intended emotions. This is why for each literary translation project STB confirms, the team of linguists is carefully selected to ensure they have experience in translating literary work, specifically for the genre in hand.
Speak to the STB team for your literary translation projects
"We started our company in early 2020 and knew right away that finding a translation company would be key to helping us achieve our goals. It took some research to find STB and we are glad we found them. Their work has been all-encompassing, from helping with the editing, through to translation, and also marketing. It has been a pleasure working with their linguist teams and project managers. Thanks to them we have been able to breathe life into our authors' works." – SDK Publishing
From science fiction to children's story books, STB is experienced in handling a variety of literary translation requests. With clear and detailed communication with clients, structured procedures in place, and using native specialist linguists, we are confident that we can meet your high-quality translation needs. If you are an author or publisher and you have a literary translation project you'd like to discuss with us, please get in touch with our team to find out how we can help open up new markets to you.
Written by Marya Jabeen