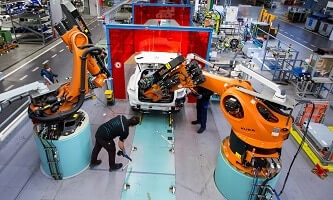 Language translation can help manufacturing companies take advantage of business opportunities in a global market. Here are some of the key ways that language translation can help businesses be successful in the field of manufacturing.
Written documents, digital and print, play an important role
The information contained in manufacturing documents is essential in ensuring business operations run smoothly and safely. When manufacturing companies do business in a global market, those involved may speak different languages, which can make it difficult for them to understand key documents.  Professional translation services ensure that all vital written information is translated in a manner that is both accurate and easy for all parties involved to understand. Examples of manufacturing documents that are often translated include equipment user manuals, training materials, HR documents, operating instructions for products and machinery, employee contracts and customer agreements.
Employee training materials
If manufacturers have non-English-speaking employees, translating employee training information is essential for ensuring that everyone at the company is productive and safe. It can also help to ensure that workers will use equipment with the highest possible degree of precision, and thereby improve production efficiency.
Foreign supplier management
Individual manufacturers may not have employees who work overseas, but it is likely that most will obtain equipment or materials from foreign suppliers. If so, language translation services can help manufacturers to communicate successfully with businesses that provide them with the supplies they need to operate. Translation allows manufacturers to build strong relationships with foreign suppliers and helps them work out the best financial deals.
Establishing an international presence
If manufacturers want to build a brand for their product or service across multiple international markets, they will need to translate their branding and marketing materials into many languages.  A professional translation agency can help ensure that all the information about their business is not only translated accurately, but also that it communicates the essence and aesthetic of their brand effectively in the context of a foreign culture.
At Surrey Translation Bureau, we have a vast amount of experience in the manufacturing sector, ranging from medical devices to automotive. Whatever your translation needs, we will hand pick the most suitable linguist for your requirements and work closely with them to ensure the best possible outcome for you.
If you would like more information about our professional business translation services click here. Email us on hello@surreytranslation.co.uk or call 01252733999 to discuss your translation requirements with us.