Time management or self-management?
One of our Project Managers, Ruth Bond attended the 'Interactive Time Management Workshop' organised by the Institute of Translating & Interpreting (ITI) earlier this month. Here is her account of how the day progressed and what she gained from it:
Are you struggling to prioritise all of the tasks that need to be done on a daily basis? Do you find yourself wishing there were more hours in the day to complete all that you need to do? I know I certainly do!
The first step is to equip yourself with the right principles to ensure effective time management. This process primarily involves organising and planning how much time is spent on specific activities. Effective time management allows you to achieve more in less time, even when deadlines are tight and time pressures are high. The key is to work smarter rather than harder!
The workshop, hosted by Christelle Maignan – a qualified Personal Performance Coach and English-to-French translator – provided the attendees, of which I was one, with the above-mentioned basic principles and techniques. These included strategies for overcoming procrastination, as well as achieving a balance between personal and professional life; an issue that is becoming increasingly difficult for a lot of translators in this day and age.
The workshop proved to be a resounding success for all those who attended, motivating us all to improve how we organise our day-to-day lives. For me personally, the technique that I will apply most to my project management role is 'Eisenhower's urgent/important principle', otherwise known as 'Stephen Covey's four quadrants for time management'. The idea behind this concept lies in aligning tasks with energy levels during the day. In other words, when you are feeling less energetic, you should be focusing on the less urgent tasks.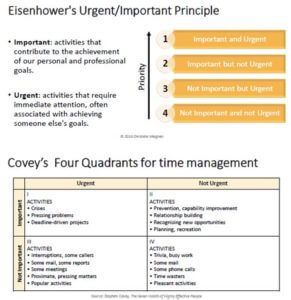 The basic idea is to focus on the important tasks, whether they are urgent or not, as opposed to merely focusing on the urgent tasks, which is a trap which many fall into. The table below gives you some idea of how your day-to-day working activities are divided up into these four quadrants. I think it's fair to say that this is a balancing act we can all relate to!
Lastly, I thought that David Allen's two-minute rule for managing emails may be beneficial to you all! If you decide a task can be completed in approximately two minutes, it would make more sense for you to do it there and then because the time taken to organise the task and then review it would be greater than the time taken to actually finish it the first time you notice it. Try not to avoid the question about what subsequent steps are involved as lots of two-minute items could be completed right there and then.
If you have any questions about how our team of  Project Managers manage time to give you excellent service, we will be more than happy to answer them. Why not email us today at hello@surreytranslation.co.uk or give us a call on +44 (0) 1252 733 999. We look forward to hearing from you!